What is Swiftdox?
Swiftdox is a web-browser based software service that allows exporters and freight-forwarders to obtain essential export documentation electronically.
It's the only platform in North America that also provides built-in legalization/apostille options. Whether you're new to exporting or an expert, our platform will streamline your global operations.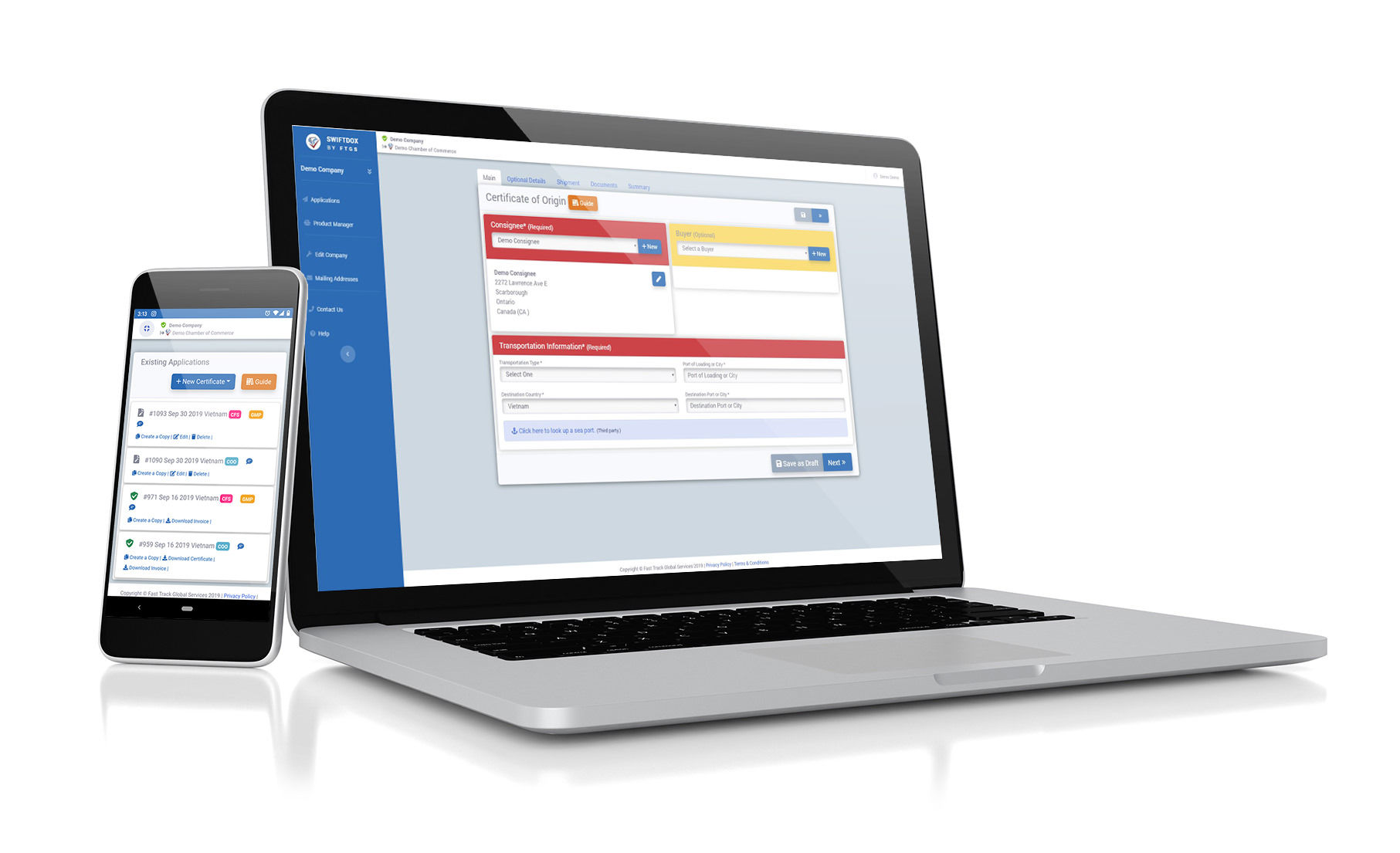 How does it work?
1
Simply open a FREE account and register your company with a participating Chamber of Commerce.
2
Fill out a few easy forms, enter your products, and upload your supporting documentation. If you run into any trouble along the way, our support is available.
3
The Chamber of Commerce will electronically review your application, instantly notify you if you have to correct any errors, and approve your certificate.
4
Depending on your preferences, you can either download your certificate instantly, have a hard-copy mailed to you, or have your documents sent for legalization/apostille by one of our export specialists.
Our Partners
Swiftdox was designed and built in partnership with industry experts with years of experience issuing export documentation, giving us the insight into regulatory requirements and compliance in a wide array of industries. Coupled with our teams' expertise and experience working with foreign governments, global regulatory and health agencies and freight forwarders, Swiftdox is changing the way we manage export documentation.
Making your life a little easier
lock
Secure
Certificates are protected with the latest cutting-edge security including blockchain and trusted digital signatures.
web
Simple
Our modern interface was designed to clearly guide you and provide the easiest and most intuitive experience.
bolt
Swift
Lightning-fast processing means that you can get the certificates you need in as little as 48 hours.
cottage
Safe
In the new normal, the option to work from home is a necessity. Our web-based platform lets you work from any location.
Swiftdox Admin
Solutions for Chambers, Associations & Trade Centers
Swiftdox empowers your establishment to issue a range of export documentation. Our certificates conform to the highest standard of security and compliance and offer one-click legalization or apostille services. Quickly review and approve certificate applications, track your stats in realtime, and organize your workflow from our intuitive interface.