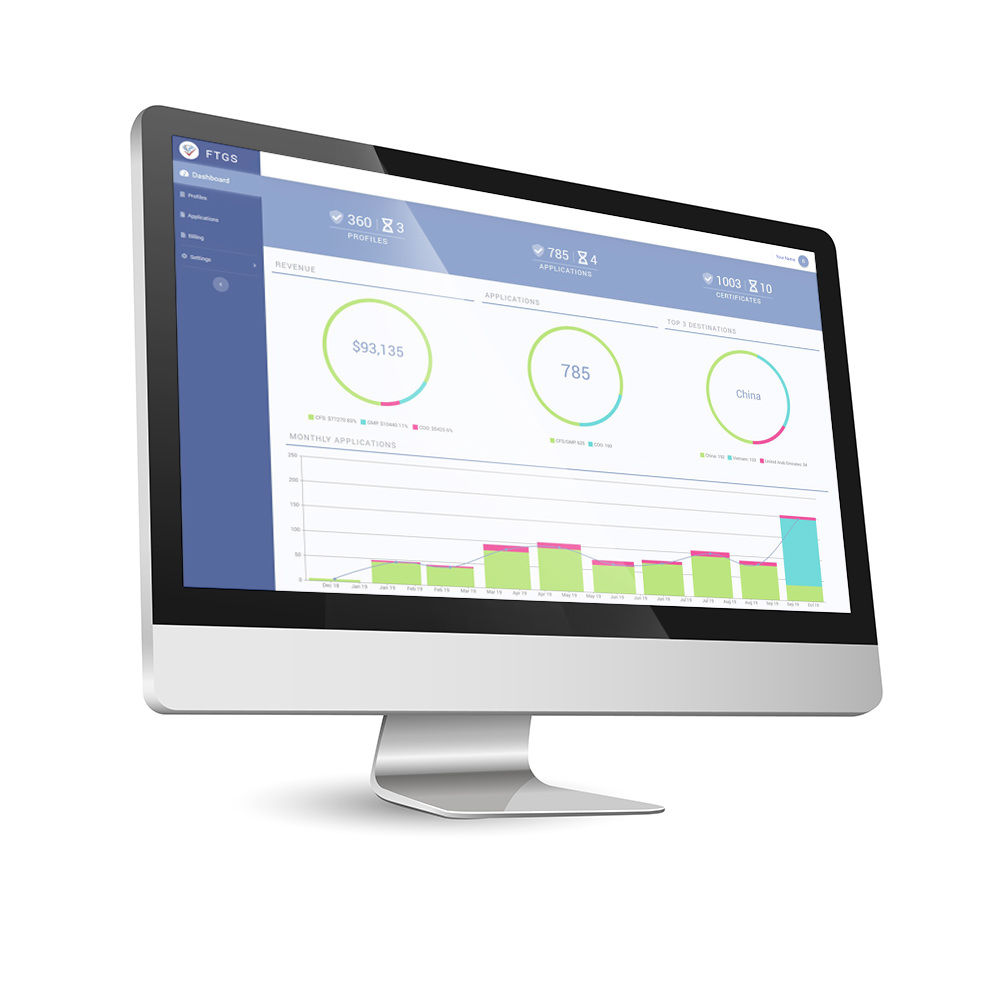 What is Swiftdox Admin?
Swiftdox Admin is a web-based software that empowers your establishment to issue a range of export documentation.
Our certificates conform to the highest standard of security and compliance and offer one-click legalization or apostille services. Quickly review and approve certificate applications, track your stats in realtime and organize your workflow from our intuitive interface.
The Ultimate Productivity Booster
Tired of sifting through paperwork?
Swiftdox can revolutionize your workflow. Our simple and intuitive interface makes sure you see all of the information you need in one place. Plus, we've packed it with helpful organization tools so you can review applications, send customized email communication, and issue certificates with only a few clicks.
Data & Transparency
We understand that the data that we collect is sensitive.
That's why we only share your data with your own establishment. As a user, you will always have access to the information the platform has collected, such as client lists, contact information, certificate statistics, and billing history. Our built-in reporting system lets you visualize and monitor activities over time, and is always available to be downloaded. We also take good care of your data. We store all application attachments and finalized certificates for 5 years to comply with federal regulations.
Customization
Not all organizations are alike.
Swiftdox is a fluid and customizable system. Our team will work with you one-on-one to set up the widely flexible platform parameters. You control everything from which certificate types you will issue, to standard and preferential pricing, and even the interface colors that match your brand identity.
24/7 Support
Your users are our highest priority.
That's why we always provide 24/7 toll-free support. We work with your team and your clients to maximize everyone's experience.
What people are saying
Don't take our word for it. See what our partners have to say about us.
format_quote
"Swiftdox is a groundbreaking solution for U.S. exporters and the L.A. Area Chamber of Commerce is excited and proud to partner with Fast Track Global services to offer this innovative tool to the global business community."
format_quote
"The L.A. Area Chamber's experience working with Swiftdox and the FTGS team has been phenomenal. Through their service, we have streamlined our export documentation services from a very manual process to a digital one, which saves both us and our customers time and provides a higher level of security. Because of the ease and convenience of this system, we have been able to reach a broader market and offer a wider range of certificate products. The "smart" functionality in the system also provides tools to educate our clients on export documentation regulations for various countries, allowing them to meet customs regulations with confidence!"
format_quote
"Our partnership with Fastrack has allowed the Greater Miami Chamber of Commerce to offer services to not only our FTZ clients, but it has also allowed us to serve the entire trade community by providing easy access to needed documents that will save them valuable time and money and grow their business potential."